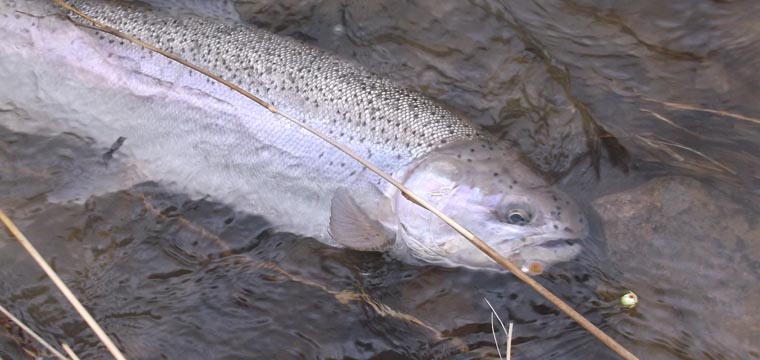 Known as steelhead alley, trout fishing in New York state is primarily centered around Lake Erie's tributary streams, which boasts large runs of this migratory trout. Steelhead numbers peak between October to April, with thousands of trout making yearly migrations upstream to spawn. Many avid anglers from nearby states, and Canada flock to these well known rivers and streams in hopes of tangling with these feisty and acrobatic fish.
The steelhead fishery in New York state is supported by stocking programs as well as natural reproduction. Thousands of steelhead are stocked in 9 major tributaries of Lake Erie, most notably and by far the most supported tributary being Cattaraugus Creek. Both Washington strain and Skamania steelhead are stocked. The Washington strain is considered a winter-run steelhead, running between October and April and is the most abundant steelhead in Lake Erie. Skamania steelhead are stocked to a lesser extent and are considered summer-run trout, and provide anglers with action as early as August and September.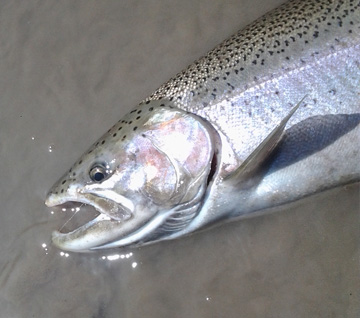 Lake Erie steelhead average in size from 4-6 lbs, although fish in the 10 lb and mid-teens are not uncommon. The most common method of fishing, is drift fishing, either under a float or bottom bouncing. Baits used include, roe, worms, beads and flies. Float fishing with noodle rods, center pin reels and light line 4-6 lbs test is the most widely used gear. Many anglers use spinning gear for float fishing, as well as for casting small spoons, plugs and crankbaits. These lures can be very effective when trout are aggressive. Fly fishing is also popular with some anglers. Fly rods are generally 6-8 weight, and fly reels are usually large to avoid excessive line memory. Spey flies, woolly buggers, stonefly patterns and nymphs can all be very effective. Also egg imitation flies are very popular and can be deadly when steelhead are targeting this abundant river forage, especially in late spring.
Any stream that flows into Lake Erie can have steelhead runs, although the major runs occur in Cattaraugus, Canadaway, Chautauqua and Eighteen Mile Creek. These streams are the most heavily stocked, as well as many support natural reproduction, especially Cattaraugus creek. Other tributaries that receive good runs of steelhead include Buffalo, Cayuga, Cazenovia, Silver and Walnut Creek. Please be mindful of private property, many streams have very limited public access. Research the streams you would like to fish, talk with other anglers, visit tackle shops and become knowledgeable and you will quickly find that there are many public sections where you can fish. Get out there, enjoy and good luck! Catching a trophy steelhead is an experience like no other.